Build a solid social media footprint:
Social media is the primary area you should concentrate on if you want to expand your tanning salon's clientele. If you post valuable and instructive content on your Facebook and Instagram sites, it may entice your fans to learn more about your tanning procedures and schedule an appointment with you.
Social media is the most incredible way to affect your tanning salon advertising ideas. You can make interesting paid posts to inform people about your services, plans, the benefits of spray tanners or indoor tanning, or even your discounts and exclusive deals.
To reach a larger audience who trusts your brand, choosing the right social media platform and developing brand awareness are vital for your business. Maintain a straightforward and reasonable social media marketing plan for tanning.
Recognizing that content is crucial and that the pictures, carousels, and text you post on social networking platforms should be captivating, consistent, and recognizable. Carefully map out your social media strategy, then implement it.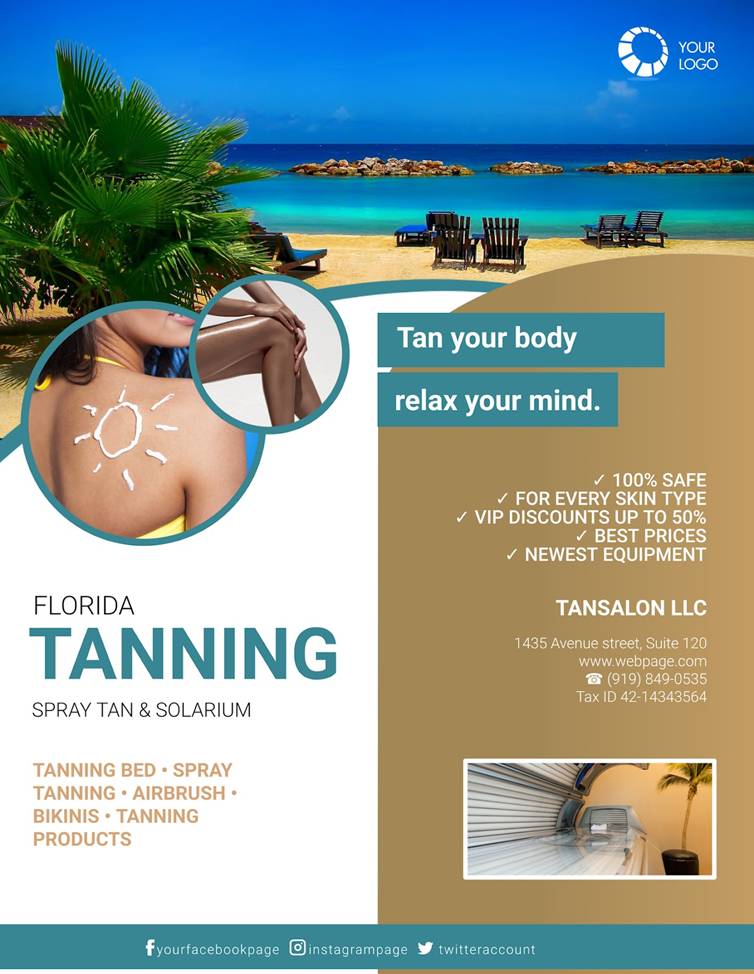 Promote referral rewards:
People frequently bring their family and friends to visit a salon or spa. The most excellent way to focus your efforts on word-of-mouth tanning salon advertising is to use "bring a friend" adverts.
Make the prize deserving and challenging to refuse. For every five recommendations, you can earn a complimentary manicure or pedicure. Make sure to choose rewards that will not only be desirable but won't result in costing your company a loss of money if provided for free in the long haul.
If a client has merited a referral, let them know. They will be even more inspired to recommend your company as a result. To motivate them, provide them with a tiny bottle of free spray tan or other inexpensive incentives.
On top of everything, you must post on your social media pages and website to make the best of online marketing and gather as many clients as possible through those channels.
Run specials and discount offers regularly:
Your primary clients as a spray tanning expert are women, and we all know that women like sales. Consider giving discounts on holidays like Christmas, Easter, Valentine's Day, Women's Day, and, why not, your client's birthday in light of this.
Surprise specials at the tanning salon are another option. By holding pop-up sales during hard times, you may generate interest. If you also produce items, this is an excellent opportunity to eliminate any inventory that isn't selling quickly.
Both of these are excellent CTAs for clients who may be debating whether they want a tan or not: your favorite services and products at a nominal fee for a short time.
However, you can not cash on the seasons if the word does not get through. Therefore, you must regularly update discounts or promotional offers on your website and social media pages. If you need help creating appealing small business flyers, platforms such as PosterMyWall have many flyer templates to help you get started.
Loyalty programs:
Loyalty programs are a straightforward approach to encourage consumer trust and loyalty while increasing your company's revenue. Offering a loyalty card with a point system is the best method to accomplish this. Offer specific points in exchange for a particular sum of money. Please make it so people can withdraw their money whenever they want!
Making it possible for them to do it through a payment portal or another means will centralize all of your customer transactions, allowing you to use them to gather consumer information. Now that you have this information, you may tailor your clientele's experience and provide pertinent extras. You could also offer them a free service on their loyalty card after five visits to the salon and therefore hold down your customer base by showing how much you value their business.
However, this is only half the effort. While loyalty programs may be suitable for existing clients using the right content and an eye-catching image, there is no reason why you cannot post them on your company's social media network to bring in new clients for their first visit. No rewards program is good enough if it's not cashed or appropriately marketed.
Make monthly tanning schedules:
Provide certain perks for customers joining up for a monthly tanning subscription. When an individual signs up, you can offer them two free tanning sessions each month as part of a fictitious "contract."
Doing so will encourage them to revisit you and allow you to add them to your database so you can continue to sell to them digitally through emails and SMS messages. Even though your investment may be modest, the benefits of acquiring a customer could be enormous.
Email marketing:
It's crucial to stand out from a sea of communications and cut through the noise. Email marketing may assist you in maintaining contact with both your current and new customers with the appropriate technique.
Utilizing intake forms, get customers' email addresses when booking. Double-check who you pitch to when you have your emails by sending the relevant emails. It implies segmentation. Utilize the client filtering features of your tanning salon management software to eliminate certain types of customers. After making this distinction, you write a brief, captivating, and educational email in your email.
One call-to-action button is more than sufficient. It would help if you didn't sound overly promotional or aggressive in your email. Send customized emails and promotions after striking the correct mix.
Encourage reviews and connecting with clients:
For any organization, developing a solid brand reputation is essential. Most consumers do their research on a company by reading internet reviews. Make sure your tanning clinic has decent reviews on Google, Twitter, and Yelp. Reviews benefit your tanning salon's Google ranking and how customers perceive it.
Not just this, but reviews are only half the part of the equation. You must also handle the feedback you receive gracefully. Always respond to reviews and other forms of feedback. It demonstrates to your clientele how much you value their opinions on your services. It also shows responsibility.
Be considerate and mindful of the complaints. Keep in mind not to take these criticisms personally. Customer reviews can occasionally be ambiguous. Investigate the problem and learn more.
Final verdict:
Increased competition makes it difficult to stay on top of the game and maintain a loyal clientele. However, with these online marketing strategies, you can rest assured that your tanning salon will be well promoted and garner the attention of many potential clients.